Posts for: October, 2017
By Gentle Dentistry, P.A.
October 28, 2017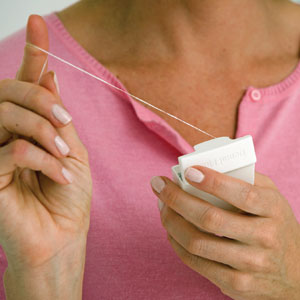 With a 95%-plus success rate, dental implants are an effective and durable replacement for lost teeth. But we can't place them and forget them: if you don't clean and maintain them they could fail as a result of disease.
The inorganic materials that make up the implant aren't in danger of infection. But the living gums and bone that surround and support the implant are at risk. In fact, there's a particular periodontal (gum) disease involving implants called peri-implantitis ("peri" – around; implant "itis" – inflammation).
Peri-implantitis begins when the gum tissues around the implant become infected and inflamed. This happens most commonly because plaque, a thin film of bacteria and food particles, builds up on implant surfaces. Another less frequent cause is a buildup of excess cement used to bond the crown to the implant. We need to remove the built-up plaque or the excess cement during your dental visit.
If the infection isn't treated or you don't keep up effective, daily hygiene practices, the infection can grow and extend deeper into the tissues and finally the bone. This can destroy the all-important integration of bone and metal titanium post that has created the implant's strong hold. When that support becomes compromised the implant can lose its attachment and, if untreated, eventually fail.
It's important to keep an eye out for any indications you may have a gum infection around an implant. Look for redness, swelling, bleeding or pus formation. If the implant feels loose, this may mean that extensive bone loss has already occurred. If you encounter any of these signs, see us immediately for an examination.
The best approach, though, is to prevent peri-implantitis in the first place. So, brush and floss daily around your implant as you do your natural teeth. And be sure you keep up regular dental cleanings and checkups.
With proper care and maintenance you can avoid problems with disease that could affect your implant. Healthy gums and bone will ensure your implant will last for many decades to come.
If you would like more information on preventing disease involving your dental implants, please contact us or schedule an appointment for a consultation.
By Gentle Dentistry, P.A.
October 13, 2017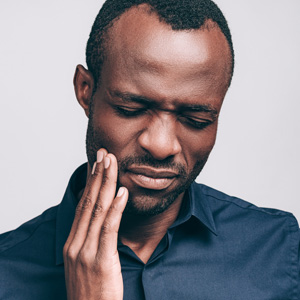 Your teeth and gums have a highly sensitive network of nerves. But while it can signal even the most subtle discomfort we may not be able to identify the cause with pinpoint accuracy. As a result, tooth pain could indicate more than one kind of problem including a decayed tooth, root sensitivity, infected gum tissues (like an abscess) or a dying pulp signaled by diseased nerve tissue inside the tooth.
On the other hand, not all tooth pain is the same: it can be dull or sharp, continuous or intermittent. It can feel like a constant, throbbing ache or a sharp wince when you eat or drink something cold or hot, or when you bite down. These differences could point our diagnostic examination in the right direction.
For example, sharp, throbbing pain could indicate deep tooth decay, especially if it suddenly stops. That would likely mean the nerves within the tooth pulp under attack by the infection have died and can no longer transmit pain. The infection, on the other hand is still very much active — this usually requires a root canal treatment (cleaning out the pulp and root canals of diseased and dead tissue and filling the empty spaces) if we're to save the tooth.
If, however, you're experiencing sensitivity from temperature or pressure, we could be facing at least a couple of scenarios. For one, your tooth could be fractured. More likely, though, periodontal (gum) disease triggered by bacterial plaque has caused the gum tissues to shrink back (recede) from the affected teeth so that the sensitive dentin layer is exposed and no longer protected by the gum tissue.
If we diagnose gum disease, we'll need to aggressively remove bacterial plaque from all tooth and gum surfaces. This procedure might require more than one appointment and the possibility of surgery if we encounter deep pockets of infection, especially around the roots. If gum recession is severe you may also need grafting surgery to replace the missing gum tissue or to re-cover the exposed areas of your teeth.
So, knowing the source of tooth pain will direct the course of treatment to follow. With proper treatment, though, the chances are good we can not only restore your teeth and gums to optimum health but we can end the pain.
If you would like more information on treating tooth pain, please contact us or schedule an appointment for a consultation. You can also learn more about this topic by reading the Dear Doctor magazine article "Confusing Tooth Pain."